The Impact of Technology on The Insurance Industry
Overview
The emergence of InsurTech in the insurance industry has challenged businesses and the traditional business model of insurance companies. This sweeping wave of tech companies has taken their place as of early 2018 across the globe especially in the United States (US).
Now, at the start of 2021 in Asia, especially in Malaysia, InsurTech are challenging contenders as startup companies set to be among the top within the industry.
Recent research from Transparency, a resource for Market Research, has predicted that Insurtech will continue to grow globally within the coming 10 years.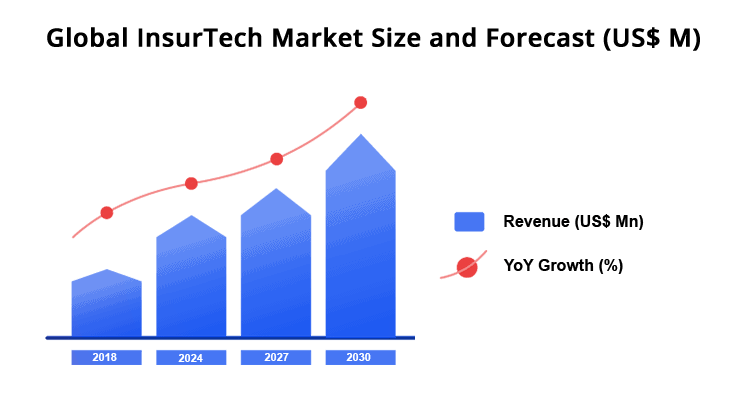 In response, Brokers have to take a bold step in transforming their credibility and take it into a whole new level. Being an intermediary, people have high expectations with the Broker. Nevertheless, the problems keep on occurring and at some point, they have to deal with everything until the solution comes to them. This means massive critical thinking and taking large risks in order for Brokers to make a decision for the good of their industry.
Opportunities over Challenges
To keep up with, Brokers have to identify their own issues. Everything starting from the smallest issue, all the way to how the company operates and to the external issue which and their relationship with the clients. Brokers should never treat their issues as a burden – instead they should treat it as a challenge for that can turn into an opportunity. Let's take a look at what we have found.
A survey was conducted by Deloitte Access Economics; Brokerage Business Survey (2020) on the time taken by Broker and client for each response. The chart shows without a doubt an efficient work force by Broker to deal with every response compared to how the client deal with responses with insurers.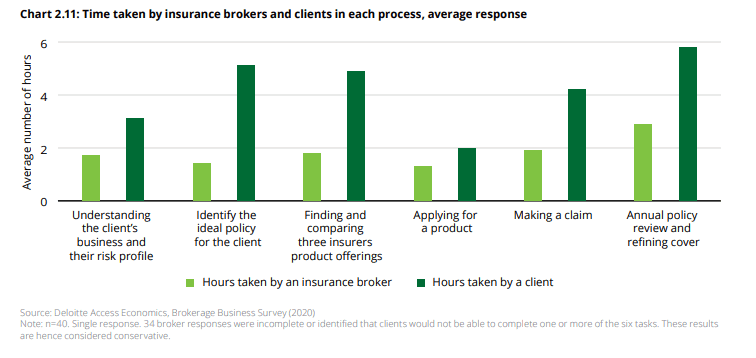 Time flies while more and more clients rely on the Broker. It is a good thing, however, from the view of the people behind it, the energy and the productivity are slowly drained. They need a transformation that can boost their way of handling tasks. In addition, to say Brokers will continue to be on the top of the chain with the same workflow is unlikely. People are slowly adapting to changes the same thing goes with technology.
The question is, how can we transform without changing?
Slowly but surely a small step taken will show the big impact. Hazard Business Review predicted that a company has reduced its costs by up to 65% due to a shift attributed solely to technology. It is beneficial for a Broker to start investing in the technology for their own good.
"Do I have to come to your premises to settle everything? Don't you have an application that I just can settle it there any time?"
People aren't exactly getting too lazy to go out and meet people, however, technology makes our lives easier. Anything we deal with, we hope it would be at our fingertips with ease.
As a Broker, you should never ever force your clients to adapt to your systems but instead surround yourself with theirs. The challenges with Broker's external issues lie within their interaction with the client. Without the client, the business is not able to make a profit.
What is the "Push" that they are looking for?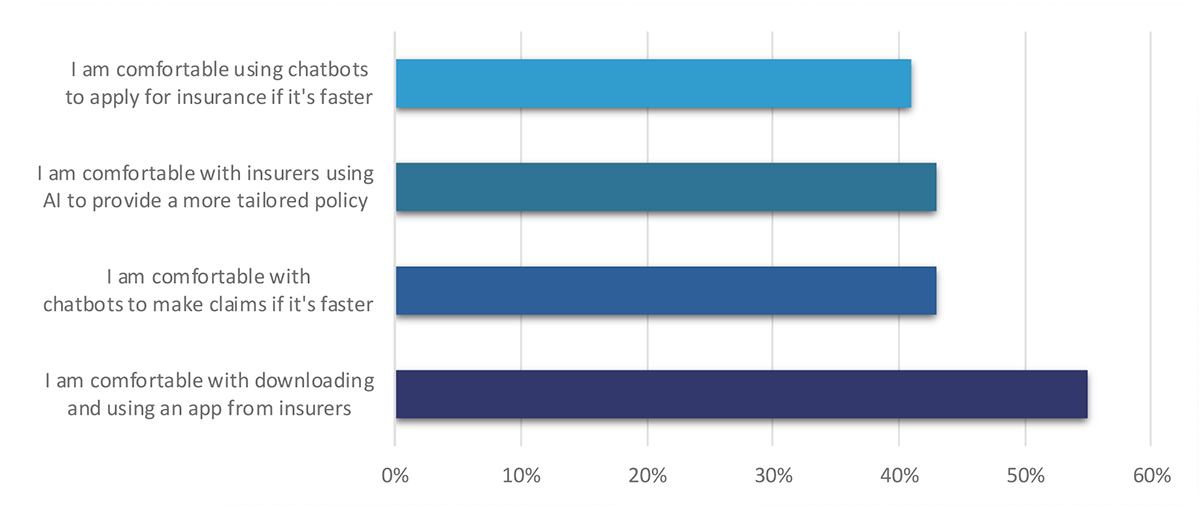 The above statistic from DXC Technology 2020 Insurance Survey Report indicates what the clients are looking for. A source from Blue Corona, cites that apart from everyone that participates in the survey, 50% of them are reluctant to the usage of mobile devices as medium interaction. The proof is there. Clients expectations are high. The test delivery or pop-up notification can make small changes with the relationship between Broker and client. Perhaps, they stay loyal longer than you can imagine.
Sometimes the problem isn't within the system – it can be the lack of understanding towards the system. Working within the insurance industry, we have noticed how the system can sometimes be complicated or even worse, those who work remotely face line interruptions since the system is not supported. The matters concern everyone since every key person that works with the Broker is looking for a system shortcut. A direct yet stunning system that can take their operations to another level.
Those who are dealing with underwriting, sales, and claims division can never say any internal conflict. The delay they face can be sometimes irritating since the client wants fast yet efficient services from the Broker. And of course, the conflict happens with other executives. 
Time is ticking, the decision making changed everything,
Never too late for a Broker to start looking and searching for a solution. Do research on competitors and set goals as to what the business is targeting. Don't rush towards a solution. Every successful decision takes time, but the important thing is how hard you are working.
Suggested Further Reading:
Connect with us to find out more on Agiliux and Cloud Insurance
Agiliux is a Software-as-a-Service that provides insurance professionals with an end-to-end workflow and management platform.
Agiliux Cloud Insurance:
1. A digital connectivity platform for global and regional teams with multiple currencies, tax rates, languages and regulatory requirements
2. Seamlessly connect your legacy systems to offer cutting edge digital solutions, without disrupting the existing infrastructure and processes.
3. With SaaS, upgrades are applied continuously without waiting for your IT staff and give you full value from your software investment
4. Start small with what you need and add more advanced features as you grow and ready to scale. Never pay for what you don't use
Authored By:
Nur Hanisah Izzul Fikri,
Insurance Analyst, Agiliux
hanisa@softsolvers.com.my  
Sarabjeet Kaur,
Chief Product Officer, Agiliux